Nadeslala Maryna Ovner
John Woodruff, an African-American track Olympian in 1936, poses in Berlin with a German soldier and other German athletes at the games. Woodruff was to become one of the heroes of the American track team, coming back to win a race after almost certain defeat.
At the time he remembers it gave him a great deal of satisfaction to be an African-American winning and disproving Nazi ideas of the "Aryan race." However, afterwards he returned to the United States and faced discrimination as a black man that included not being allowed to take part in some competitions. In addition, he was snubbed by President Roosevelt, who chose not to meet him and congratulate him, as he did other American athletes who came home from the Olympic games. You can read more in the article posted in the comment section below. Much like Jesse Owens, he felt on a personal level much more snubbed by his home country than by Nazi Germany in 1936.

That was 71 years ago. And while Owens plays a leading role in American sports lore, John Woodruff has slipped into anonymity, along with eight other African-American medal winners from the '36 Games.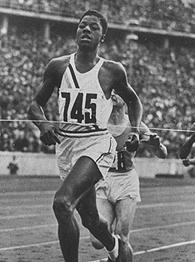 IOC Olympic Museum /AllsportJohn Woodruff crosses the finish line to win the 800 meters at the 1936 Games in one of the most extraordinary races in Olympic history.
Woodruff, 91 now and residing in Phoenix with his wife, Rose, is the only one of that group still alive. In recent weeks, his health has declined, the result of one illness after another. Diabetes has taken his legs — the limbs that brought him unexpected glory all those years ago. During the interview, though, Woodruff doesn't complain. Rather, he focuses as best he can on questions about his career, about his gold medal run in Berlin and about Owens. "I feel very gratified that I was able to do what I did," he says. "I feel very happy and proud of that achievement." The grandson of Virginia slaves, Woodruff grew up with a brother and eight sisters in Connellsville, Pa. Initially, football was his favorite sport. But his mother, Sarah, asked her son to quit his high school team because it didn't leave him enough time to do his chores. Later, as the Great Depression set in, Woodruff quit school altogether to try to find employment — a futile exercise, it turned out. "Being a black man made it difficult for me to find work," he says. As a result, Woodruff returned to school and, at the request of the coach (who directed both teams), shifted to track. He won his first race, and kept on winning. Tall and gangly, Woodruff possessed the unorthodox gait of an inexperienced runner. But he was quick and smart and had an enormous stride that allowed him to gobble up the track in huge chunks. His teammates quickly dubbed him "Long John."
By graduation day in 1935, Woodruff owned the Pennsylvania state half-mile and mile records, and the national mile record as well. He wanted to attend Ohio State University, where Owens already had set several world records, but a group of University of Pittsburgh graduates from Connellsville secured a scholarship for him at their alma mater. At Pitt, Woodruff boarded at the YMCA and, for money, helped with clean-up chores at the football stadium after games and elsewhere around campus. And he ran. On June 27, 1936, Woodruff competed in an Olympic trial qualifying meet in Cambridge, Mass. There, in a misty rain, he surprised everyone with a victory in the 800 over the favorite, Chuck Hornbostel of Indiana University. At the time, a New York Times reporter, who described Woodruff as an "unheralded Negro freshman from the University of Pittsburgh," gave this account of the race: "He steps along with gigantic strides, his head pulled back as though he were trying to kick it with his heels. His form is bad but his running superb. He matched the great Chuck Hornbostel's kick with a sprint of his own, opened up a 3-yard lead in the final 20, and triumphed in the grand time of 1:51.3. The Pitt Negro looks bad enough winning, but when he was losing he seemed very much through for the day. Just as the 'experts' started to write the name of Hornbostel down in their programs as the certain winner, the Negro reversed the Louis-Schmeling procedure and flattened the Hoosier with one blow. He streaked away from Hornbostel and won so handily that mental notes were made immediately to reserve a place for him on the Olympic team." Two weeks later, at Randall's Island Park in New York, Woodruff fulfilled the reporter's prophecy by winning the Olympic trial finals 800-meter race, sending him to Berlin. From the beginning, controversy swirled around these Olympics. Germany initiated a number of antiminority race laws in September 1935 and Adolph Hilter said the Games would demonstrate Aryan supremacy, leading many Americans and other track officials to champion a boycott. That idea upset a number of black journalists and athletes, who pointed to segregationist policies at home. In October 1935, Amateur Athletic Union director Jeremiah Mahoney called for a boycott during a visit to Columbia University. Ben Johnson, a black student and one of the country's top sprinters, spoke at a student gathering after Mahoney's speech. "It is futile and hypocritical that Judge Mahoney should attempt to clean up conditions in Germany before cleaning up similar conditions in America," Johnson said, according to the Columbia Spectator.
That winter, well before Woodruff's ascension, Johnson, Owens and several other prominent black track stars wrote a letter to U.S. Olympic Committee president Avery Brundage, asking him not to boycott the games, according to author Brett Hoover. By the time Woodruff made the Olympic team, the boycott talk had subsided, although some Jewish athletes stayed home. Woodruff is reluctant to discuss the race issue that prevailed at that time. "Things were so different back in those days," he says. "Hitler had his master race theory. Of course, as far as we were concerned, we weren't interested in politics. All we were interested in was going to Berlin and trying to win." Once they arrived, Woodruff says he was surprised at the reception he and the team's 18 black athletes received from German fans."They treated us very, very well," he says. "Very cordial. Very friendly." "Things were so different back in those days. Hitler had his master race theory. Of course, as far as we were concerned, we weren't interested in politics. All we were interested in was going to Berlin and trying to win."
German journalists and Nazi officials, on the other hand, referred to the African-Americans as the black auxiliaries.Woodruff made it through the qualifying heats with relative ease. In the final, on Aug. 4, he became boxed in on the inside about 300 meters into the race and appeared doomed.What happened next is a matter of some discussion. But Woodruff is clear on the subject: "I stopped." In that instant, as other runners passed him by, Woodruff moved outside, to the third lane, and started up again. He didn't stop this time until he had beaten Mario Lanzi of Italy by six-tenths of a second. Hornbostel finished fifth.
The result astonished most track fans. How did he do it?
He was talented enough to overcome a mistake as seriously as the one he had gotten into," says track historian Dave Johnson, director of the Penn Relays.
Says Woodruff: "The third lane gave me an opportunity to perform at full capacity. I figured I had a chance — as long as I could get by the other runners."Hitler did not present Woodruff with his gold medal. Contrary to reports at the time, which said the Nazi leader snubbed Owens and the nine other black athletes who won a total of 14 medals, according to Dave Johnson, Hitler wasn't allowed to give out medals. After Hitler left the stadium midway through the first day, the Olympic Committee told him if he couldn't give medals to all the athletes, he couldn't be involved in any of the ceremonies. The first medal ceremony Hitler missed was for Cornelius Johnson, an African-American who won gold in the high jump. Back home in Connellsville, where Woodruff had been one of four African-Americans in his school, more than 10,000 people turned up for a parade in his honor when he returned home. He brought with him an oak tree from Germany, which was initially planted near the library. Town officials presented him with an expensive watch. Woodruff was stunned by the support — and gratified."I was very appreciative that the people of Connellsville felt that much about me," he says. Owens, the star of the Games with four gold medals, received ticker-tape parades in New York and Cleveland. Still, the race issues noted by Ben Johnson the previous year remained significant. Owens was spurned by President Franklin D. Roosevelt, who never acknowledged his achievement. He also never won the Sullivan Award as the nation's best amateur athlete Later in his career at Pitt, Woodruff was prevented from racing in a meet at the U.S. Naval Academy because of segregation laws in Maryland, according to Dave Johnson.
"He was an Olympic champion," Johnson says. "I think it was a sign of the times; that's the nicest way you can put it."
Woodruff completed an exceptional amateur career — one that might have been greater had World War II not intervened, canceling the next two Olympics. He went on to a distinguished career in the U.S. Army, serving in World War II and Korea and rising to the rank of lieutenant colonel. Woodruff earned a pair of college degrees in sociology and lived most of his adult life in New York, where he worked as a teacher, welfare department investigator and parole officer, among other jobs.
As the years went by, Woodruff and most of the other African-American medal winners from the Berlin Games faded from public awareness. But not Owens, whose achievements and persona grew in stature. Woodruff says Owens, who died in 1980, was justly rewarded. "I didn't feel bad about that because Jesse deserved all the accolades he received," Woodruff says. "He was a fine athlete. And he was a fine gentleman."
Woodruff is not completely forgotten. His medals are on display at Pitt and at the high school in Connellsville. The Woodruff tree there, now near the football stadium, is over 60 feet tall. The town holds an annual 5K race in his honor.
When Penn Relays officials decided to start a wall of fame to commemorate the meet's 100th anniversary in 1994, Woodruff, who won eight races running anchor legs in three appearances, earned more votes than any other candidate, Johnson says.
"I guess," Woodruff says, summing up his considerable achievements, "I was born with a natural ability to run." George J. Tanber contributes to ESPN.com. He can be reached at george.tanber@iscg.net.